Mayor Emanuel Announces Record Breaking Number of Tower Cranes Operating In 2017
Posted on September 27, 2017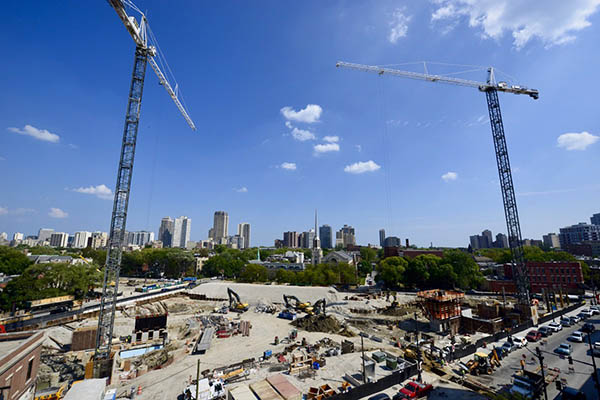 Yesterday, Mayor Rahm Emanuel and the Department of Buildings announced the 53rd tower crane to operate in Chicago in 2017, breaking the record of 52 tower cranes operating set last year.The latest tower crane to dot the sky is located at 2345 N. Lincoln Avenue, a six- acre mixed-use development on the former site of Children's Memorial Hospital.

"People are optimistic about the future of Chicago. They want to move here, they want to invest here and they want to build here," said Mayor Emanuel. "As Chicago's economy continues to get stronger, we will continue to partner with businesses, big and small, to keep this progress going."
With this new tower crane, there are 53 tower cranes in operation this year, 31 are still on construction sites in Chicago and seven new tower cranes are pending installation. This marks the largest number of operating cranes in a year since the Great Recession, when the City dropped to as low as 12 operating tower cranes in 2010.
The new tower crane is the second to be installed at this development, called The Lincoln Common. The transit-oriented development features 94,000 square feet of retail space, 538 apartment units, 40 luxury condominiums, a 47,000 square foot boutique office building, a parking garage with 850 spaces, a 149-room senior living facility and more than an acre of open space. New buildings will be mixed with restored and revitalized structures to integrate into the existing neighborhood fabric with ready access to the Fullerton train stop (red/brown/purple CTA lines), buses and bike lanes.
"The Hines McCaffery partnership is very proud to share in this historic moment," said Dan McCaffery, Chief Executive Officer of McCaffery Interests. "We love this city and the opportunities it offers for so many. Congratulations Chicago!"
Cranes typically operate on construction sites for over a year and can operate for as long as two years, depending on the size of the development.
Photo Credit: @Chicagos Mayor
Above: The Lincoln Common cranes rise above Lincoln Park.