Belmont Village - Lincoln Park Construction Update November 17, 2017
Posted on November 17, 2017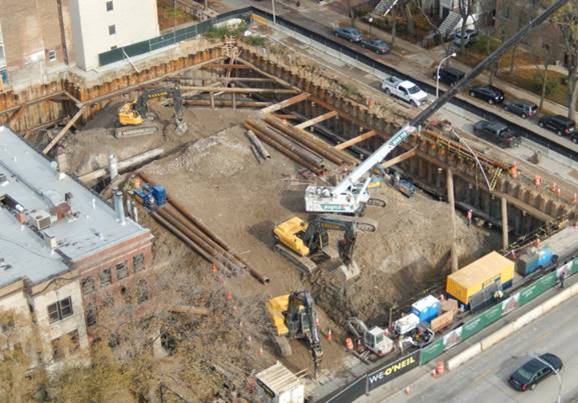 Installation of the lower tier earth retention bracing is nearing completion. Excavation will continue through December.
We are currently scheduled to install the tower crane Monday, December 4 through Wednesday, December 6, so long as the weather cooperates. During this time, Fullerton Avenue between Orchard and Burling Streets will be closed to accommodate the installation. Official closure schedules, location maps and additional details will be distributed prior to the start of this work.

Week of 11/20/17
Excavation
Earth retention bracing
Week of 11/27/17
Excavation
Demobilization of earth retention subcontractor
Week of 12/4/17
Excavation
Erect tower vrane
Mobilization and beginning of concrete activities
Week of 12/11/17
Excavation
Concrete
Underground plumbing installation
Thank you for your continued patience and understanding as we work through these critical first steps of construction. Should you have questions or would like additional information about the Belmont Village project, please contact Adam Hamilton of Belmont Village or Dean Psarros, W.E. O'Neil Construction Liaison for Belmont Village Lincoln Park.

To choose the updates that you'd like to receive about The Lincoln Common development, please update your preferences at LincolnCommon.com.