Belmont Village Lincoln Park - Construction Progress Update December 1, 2017
Posted on December 01, 2017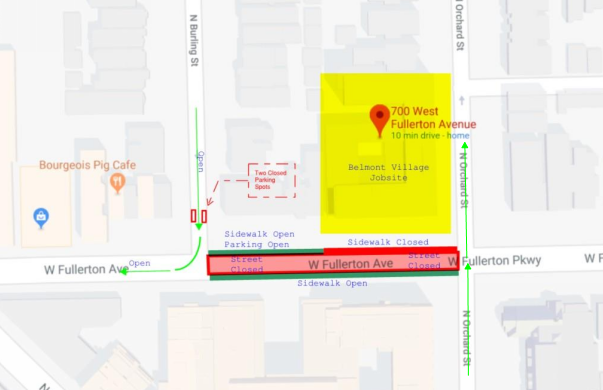 Street closure dates have changed. Please see below.
Belmont Village has updated its scheduled tower crane install to Wednesday, December 6 through Friday, December 8, weather permitting. This installation will shut down Fullerton Avenue between Orchard and Burling Streets (see above map). Reminders of the closure will be distributed prior to commencement of installation and notices will be posted throughout the area.
Please contact Adam Hamilton of Belmont Village or Dean Psarros, W.E. O'Neil Construction Liaison for Belmont Village Lincoln Park with questions

Excavation, concrete and underground plumbing/electrical work will continue throughout December, per the below schedule.

Week of 12/4/17
Excavation
Erect Tower Crane
Week of 12/11/17
Excavation
Concrete
Underground Plumbing Installation
Week of 12/18/17
Excavation
Concrete
Underground Plumbing & Electrical Installation––
Week of 12/25/17
Excavation
Concrete
Underground Plumbing & Electrical Installation